Dr. Muhammad 'Bilal' Khalid, MD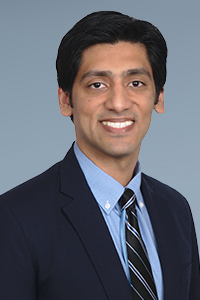 Dr. Muhammad 'Bilal' Khalid, MD is a board-certified internist, and allergist and immunologist. He received his medical degree with honors from Services Institute of Medical Sciences, Pakistan. He went to University of Tennessee, Memphis to complete his internal medicine residency where he was awarded with the Bruce Steinhauer Altruism award for exceptional dedication towards patient care. Dr. Khalid then completed clinical Allergy and Immunology Fellowship and Fellowship in Advanced Allergy and Immunology (academic/research track) at National Institute of Allergy & Infectious Diseases (NIAID), NIH, Bethesda. During the fellowship, he worked in the Laboratory of Allergic Diseases leading a clinical trial investigating COVID-19 mRNA vaccine-induced allergic reactions, and received a recognition award for his contribution and commitment towards research at NIAID. Dr. Khalid's work has been published in high impact peer-reviewed scientific journals and he is a co-author in a food allergy textbook. He has also presented numerous times locally and in national meetings. He is a member of American Academy of Allergy, Asthma & Immunology (AAAAI) and American College of Allergy Asthma and Immunology (ACAAI) and serves as a member on multiple AAAAI committees. He also has been closely involved in mentoring and teaching residents and medical students.
Dr. Khalid has a passion in providing compassionate patient-centered care for general and complex allergies and immunological disorders among all age-groups including anaphylaxis, urticaria, angioedema, allergic rhinitis and conjunctivitis, chronic sinusitis, asthma, vaccine allergies drug allergies, food allergies, eosinophilic disorders including eosinophilic gastrointestinal disorders, mast cell disorders, idiopathic anaphylaxis, atopic dermatitis (eczema) and contact dermatitis. His special interests include vaccine-induced allergic reactions and idiopathic anaphylaxis.
In his free time, Dr. Khalid enjoys spending time with his family, traveling, learning history and culture, and playing cricket and soccer.