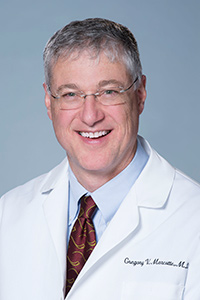 Dr. Gregory Marcotte began his private practice of Allergy and Immunology in Wilmington, Delaware in 1997, taking care of patients and their families with all types of allergic diseases.
Dr. Marcotte started college at Cornell University planning to go to veterinary school. After a trip to the emergency room for an allergy attack while working on a dairy farm his freshman summer, he changed majors to Cell Biology. He graduated with Distinction and Honors, and planned for medical school. He spent a year working as a laboratory technician at the Johns Hopkins University Division of Allergy and Immunology. He attended medical school at New York University, did his residency at the University of Colorado/National Jewish Hospital, and then returned to Johns Hopkins to complete his Allergy and Immunology Fellowship. He is board-certified in Adult and Pediatric Allergy and Immunology.
Dr. Marcotte has written several peer reviewed papers, given countless talks to fellow physicians and is involved in training the residents at both the Christiana Care and the St. Francis residency programs. He is currently the Section Chief for the Division of Allergy & Immunology at Christiana Care Health Services System and is past President and member of the Delaware Allergy Society. He is a Fellow of both the American Academy of Asthma, Allergy and Immunology; and the American College of Asthma, Allergy and Immunology and member of the Pennsylvania Allergy and Asthma Association, the American College of Physicians and the American Medical Association.
Dr. Marcotte volunteers time for the American Lung Association of Delaware (serves as medical director for the annual Asthma Camp) and the Food Allergy and Anaphylaxis Network branch in Delaware. He has received multiple awards in Delaware including being voted by his physician peers as one of the Best Allergists in Delaware annually and "Top Doc" of all doctors in all of Delaware in 2009.
Dr. Marcotte is married and has 2 daughters.
Dr. Marcotte's office staff strives to deliver the best care to patients in a friendly and efficient manner and the office is accepting new patients of all ages.
Board Certified Allergist and Immunologist